Horizontal bands of red and gray paneling paired with vertical columns of windows that stretch all the way to a high-rise rooftop turned a university residence into a dramatic feature on Towson's skyline.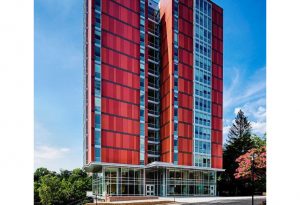 But creating those precise, parallel lines on a structure that had suffered four decades of "concrete creep" presented the Plano-Coudon project team with a succession of surprises, complications and meticulous project needs.
"Without question, this was the most challenging project I have ever done," said Project Manager Thomas Koch.
Koch knew at the outset that the total gut renovation of the 14-story, 110,000 SF, 1970s-era residence tower at Towson University would be difficult. The project included a complete renovation of the interiors, replacement of all MEP and data systems, installation of a new roof and new windows, and a complete re-skinning of the building with an Equitone facade — large, fiber-cement panels from Germany. The design would also require crews to remove portions of the second floor, reinforce structural columns and install a two-story curtain wall in order to create an inviting, two-story entry space.
But then things got especially tricky.
While demolishing the interior, crews discovered that the lower portions of one structural column had been encased in a block wall. When crews removed the wall, "we discovered the column had failed," Koch said. "There were cracks going up and down the column that were a quarter-inch or more in width. This created a significant safety concern."
Three structural engineers assessed the column and concluded it could be repaired and the project could proceed safely.
The repair, however, meant "we had to shore the building up from the basement level all the way to the roof," Koch said. "Then we had to open up the basement concrete slab, go down to the caisson foundation the column was sitting on and widen the column up through the first two floors."
While conducting preliminary work on site, crews discovered another abnormality with the existing building. The concrete tower was supported by interior structural columns "but there were no exterior walls or columns that went down to the foundation," Koch said. "That created a unique situation. Over time, concrete moves. It's called concrete creep. So the floor on each level started to sag along the outside, like the edges of an umbrella will droop."
While that "umbrella effect" didn't present any structural concerns, it created big architectural challenges. The building – which was set to be clad in uniform rectangular panels, parallel horizontal lines and vertical columns of windows – was not plumb or square "and a lot of elevations and faces of the building were not within current construction tolerances," Koch said.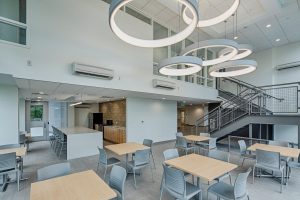 Realizing that any uneven windows or exterior panels would immediately become an eyesore, the project team hatched a plan to create a plumb and square facade on a highly irregular building. Workers carefully measured and mapped out more than 300 window openings in the building, determined the best uniform-size window to install throughout the building, then established a baseline across each story to ensure the windows would appear even from the exterior (even if windows were set at slightly different elevations above the interior floor).
"This required a lot of leveling and surveying for each window. Within some window bays, you could have a drop of an inch or two in elevation across a span of three feet," said Justin Vega, Project Engineer. "But with careful shimming, we made everything look uniform outside."
The 17-month renovation presented the project team with numerous other challenges.
"Our floor-to-floor height was really tight," Koch said.
The nine-foot space from the top of one floor slab to the next and slab thicknesses ranging from 8 to 10 inches left crews dealing with a floor-to-ceiling space of just 8'2" to 8'4". The "oscillating floors" also meant that crews had to adjust the installation of ceiling grids to keep grids, ductwork and piping level, Vega said. Consequently, installers had as little as three inches of clearance to pass MEP systems through some portions of ceiling. The addition of fire shaft walls to certain parts of the building mid-project further constricted some spaces.
All those complications rendered the project's BIM model for utility coordination and clash detection unable (without time-consuming revisions) to resolve the space constraints.
"Instead, when we got into really tight spaces, we would look up in the ceiling and say, what am I going to do here? If I move this duct over a half-inch and that pipe over a quarter inch, can I make things fit?" Koch said. "It was a pretty fluid process and I am very grateful for the trades we had on this project. They understood the challenges we were facing, they worked together as a team and they found solutions."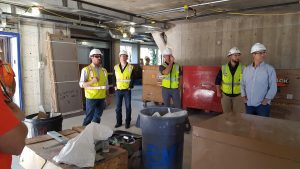 That teamwork, combined with intensive coordination, enabled crews to contend with major scheduling challenges, said Ted LaPierre, Superintendent. Repairing the failed structural column set the project back 6-8 weeks and prevented the project team from executing its original plan to complete all interior renovations on a floor before moving on to the next. (Shoring around the column delayed interior renovations on one-quarter of each story of the residence.) Crews also had to adjust their work schedule to address other structural questions.
To install the new MEP infrastructure, "we had to put about 75 holes in every floor so that floor had to be GPR scanned, documented and reviewed by the engineer," LaPierre said. "Then if the engineer said we needed supplemental structural reinforcement, we had to put that reinforcement in before we cut the holes. That process took a lot of energy and time, but it had to be done."
"This was a total team effort," LaPierre said, adding that crews did outstanding work on their tasks, such as maneuvering 68,000 pounds of mechanical equipment 150 feet up into the air to install it on the tower's roof. "This team worked really well together on a very tough project. At the end of the day, we were a family."