After spending 20 years in business and establishing a $100-million-a-year operation, Baltimore-based Plano-Coudon Construction has officially expanded its geographic reach and opened an office in Tysons, VA.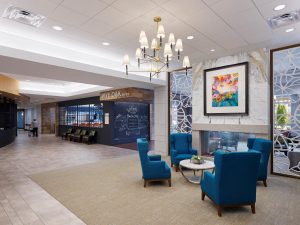 "We have been working in the D.C.-Northern Virginia market for a number of years and some of our clients expressed interest in seeing us do more work down there," said Brett Plano, Co-founder. "We recognized that we had hit a critical mass and we could service our clients better and grow our volume of work if we opened a Northern Virginia office and put more boots on the ground."
The new operation is strategically positioned to serve the District of Columbia and Northern Virginia as well as Prince George's and Montgomery counties in Maryland.
"I'm very bullish on that market," Plano said. Both Plano and Co-Founder Ryan Coudon are graduates of Virginia Tech. "We have studied it for years and that market can easily support another quality contractor, especially one with our approach and culture."
Plano-Coudon was founded in 1998 on a mission to bring big-company sophistication and an engineer's mindset to projects of various types and sizes. The company has developed deep expertise in higher education, healthcare and a broad range of commercial projects. Its roster of work includes projects in the $40-million range and prominent developments, such as the Guinness Open Gate Brewery & Barrel House. In 2011, Plano-Coudon formed the Small Projects Division to deliver the same level of service to all projects, no matter the size.
In addition to continuing to serve existing clients in the D.C.-Northern Virginia market, Plano-Coudon is now working to build its brand recognition in the region to expand its client base.
Plano-Coudon Executive Jared Geary is spearheading the D.C.-Northern Virginia expansion. A long-time Plano-Coudon employee, Geary founded and grew the Small Projects Division which closed 112 projects in 2017 with over $25 million in revenue.
"This area is booming so we are working hard to expand our existing client relationships and build new relationships that can lead to opportunities for us to perform a wide variety of projects that fall within our expertise," Geary said. "We are staffing our office in Tysons with top-tier construction professionals to better serve the region. The growth and development of our Tysons office is a big initiative for Plano-Coudon."