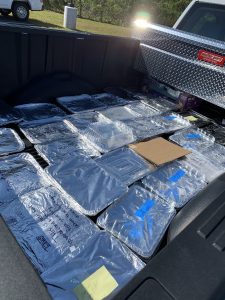 Our Daily Bread, Maryland's largest hot meal program, hasn't missed a day of serving lunch to those experiencing hunger in Baltimore City since they opened their doors in 1981. Not during winter storms, hurricanes and certainly not during this pandemic crisis.
Plano-Coudon volunteers at Our Daily Bread monthly to help serve meals in the dining room, but in response to COVID-19 precautions, the program has shifted to "grab-and-go" meals – putting a stop to volunteer activities. But the need for these meals has greatly increased – now needing as many as 1,000 meals per day.
This week, members of Plano-Coudon prepared and delivered trays of a very popular casserole dish served at Our Daily Bread. Our P-C team donated 60 trays, which will feed approximately 600 people! We are proud to be a partner of Catholic Charities at all times, and especially during this extreme time of need.