Plano-Coudon is pleased to welcome Timothy Chandler as the newest foreman in our Small Projects Division.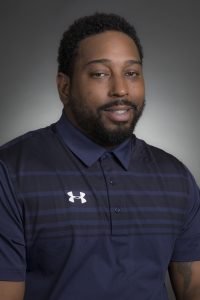 Before joining Plano-Coudon, Chandler worked as a supervisor of deconstruction crews for Details, a subsidiary of the nonprofit Humanim. Chandler also has previous experience as a tradesman, performing drywalling, framing and other functions.
"Tim had proven his leadership skills at Humanim. He has experience self-performing work on construction projects. And when we met him, we got the sense that he embodies the values of our PC FAITH corporate culture. So we think he's a great addition to our growing division," said Blair Radney, Division Manager – Baltimore Region of the Small Projects Division (SPD).
Plano-Coudon which has a long-standing relationship with Humanim, was also delighted to hire an individual from one of its job-training programs. Humanim supports individuals throughout Maryland and Delaware through 40+ programs in the areas of human services, youth services, workforce development, and social enterprise.
Details – Humanim's deconstruction service — provides individuals with construction trades training while earning a living wage and receiving full employee benefits.
"About 75 percent of Details workers are citizens returning from incarceration and they face a very difficult time finding employment," said Jeff Carroll, Humanim Vice President. "Our goal is to employ them at a living wage so they can build stability and economic independence, while also providing them with training and helping them build their resume so can eventually land other jobs."
Workers who stay with Details an average of 18 months, deconstruct large homes and salvage construction materials on sites from New England to Florida. Workers gain skills in using power tools, hand tools and materials handling machinery. They learn about construction processes, building systems and workplace safety "so they get prepared to become part of a team that builds things," Carroll said.
As a crew supervisor, Chandler handled project management, worker productivity, worker safety and subcontractors on sites with unique challenges "so he became pretty adept at being a problem solver and a leader of a team of six guys," Carroll said.
Chandler who began work at Plano-Coudon in May, will oversee projects for the growing SPD Baltimore Region.
"We are expanding geographically and landing new projects in Harford County, Howard County and Annapolis, including renovations, facility maintenance and on-call services for government agencies, private sector clients and medical facilities," Radney said.
That growth has prompted SPD Baltimore to add a project manager, estimator and foreman in recent months. Radney expects to hire an additional foreman later this year.