Plano-Coudon is pleased to be starting work on two new, major projects.
Riderwood Wellness Center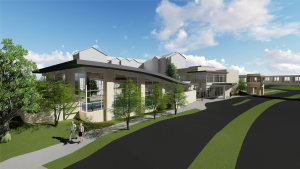 At the Riderwood Retirement Community in Silver Spring, Plano-Coudon is preparing to break ground on a new, 25,000-square-foot wellness center. The $11.6-million facility will include a two-story section that houses two fitness gyms plus multi-purpose rooms, and a one-story section that contains a swimming pool, hot tub and spa.
"The swimming pool section is dramatic," said Project Manager Andrew Hooker.
Bent and sloped steel beams will create a wave-shaped roofline over the pool which will be surrounded by a large storefront, curtain glass and a ceiling made of exposed wooden decking. The space will also feature a mix of finishes, including brick facades, metal panels and intricate tile mosaics.
The project team will have to overcome a few challenges. The site is just three feet from a pedestrian bridge and crews will have to make a six to seven foot deep cut in the site for the new building's foundation.
"We are going to be hauling tons of dirt off that site and putting in retaining walls adjacent to the bridge," Hooker said. "It's going to be very tight in there. We will have to make sure we don't undermine the bridge foundations. We will also have to put up tight scaffolding between the bridge and the new building to do masonry work."
The site is also adjacent to one of Riderwood's residential towers. Consequently, crews will start work later in the morning in order to avoid waking the residents.
The project which includes moving utilities and other extensive site work, is set to be completed within 15 months.
Catholic Charities
Plano-Coudon is currently working through the pre-construction phase for a major renovation of the former Villa Maria Residential Treatment Center on the Catholic Charities campus in Lutherville. The purpose of the project is to renovate and update approximately 50,000 square feet of office and support space to enable Catholic Char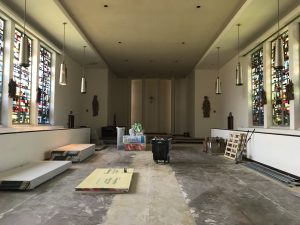 ities to better meet the demands of its mission. The work will also include upgrading building mechanical, electrical and plumbing systems within the 125,000-square-foot building.
Members of the project team are "helping Catholic Charities determine the most cost effective improvements to meet its needs", said Craig Pool, Plano-Coudon Project Manager.
For example, decommissioning the existing out-of-date air handling units in the building's attic would enable Catholic Charities to install more modern, efficient equipment. However, making such a change would leave the attic space unconditioned and would require crews to relocate the top floor's sprinkler lines out of the attic in order to prevent them from freezing.
Team members are guiding efforts to identify optimal cost-effective solutions to improve the site's landscaping and upgrades to the building.  Construction is slated to begin in January and be completed by the end of the year.