During this Coronavirus pandemic, there are measures that should be taken to provide the safest environment for your employees and visitors. While companies have adopted work-from-home practices during the Coronavirus business disruption, preparing your office space for when employees return to the workplace is in the best interest of everyone.
The Plano-Coudon Small Projects Division is highly trained and ready to provide the changes needed to adapt to the new normal.
1. Physical Barriers
The current open space concept may need to be substantially altered with clear, plexiglass physical barrier screens to support worker comfort and safety. These physical barriers can be produced and installed for reception areas, doorway entrances, or to heighten cubicle walls.
2. Office Modifications
As employees return to the workplace, spatial separation between desks, workstations and common areas need to be addressed. Reception areas will need to limit the number of seats – at least 6-feet between seats. Doors may be taken off hinges for employees to avoid touching handles, and "huddle spaces" with upholstered seating may require socially distant floor plans. Double-swinging push doors, motion sensor lights and restroom entrances without doors are measures to increase employee and visitor safety.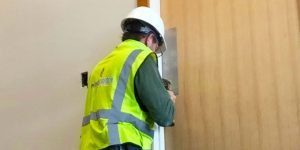 3. Cleanliness Protocol
After updating your office for social distancing inside the work place, we will clean and disinfect the area making it ready for your workforce to occupy. Our office fogging system provides a cleaning and disinfecting application to reduce the occurrence of germs and bacteria in the workplace. We can also install sanitizer stations with EPA-Approved disinfectants, replace ceiling tiles, and repaint high traffic areas.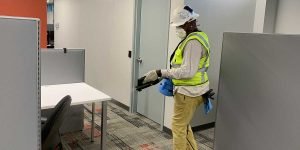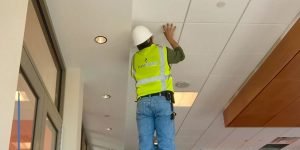 Plano-Coudon Small Projects Division can provide a detailed proposal to bring your workplace into the COVID-19 era and beyond.
Contact us today to find out more at info@pcbuilds.com.