From pedestrian walkways and platform ladders to giveaways of gift cards and Yeti coolers, a hybrid safety program at the Guinness construction site in Baltimore Country is generating some new standards for safe construction practices.
Representatives from Plano-Coudon and Diageo, owner of the Guinness brand, began crafting the enhanced safety plan as they prepared to begin construction of the Guinness Blonde brewery and entertainment complex in the former Seagram's buildings. They tailored the plan to include safety practices from the U.S. and Europe as well as some components of Diageo's "engineering excellence" program.
"Plano-Coudon has prided itself on being best in class in safety in the U.S.," said Brett Plano. "But the European safety culture and the Diageo practices are best in world class. It's a different way of thinking that is challenging and intriguing."
Adapting that safety culture to the Guinness project has involved enhancing and adding components to Plano-Coudon's safety program.
JSAs, Walkthroughs and White Boards
A longtime proponent of Job Safety Analyses (JSAs), Plano-Coudon stepped up its JSA practice on the Guinness site. Rather than submitting selected JSAs for high risk activities periodically, subcontractors on the Guinness site complete a JSA every morning that covers the day's work. They review that JSA with their crew then present it to the Plano-Coudon safety officer in order to obtain work permits for the day.
The size, complexity and pace of the Guinness project warranted that daily process, said Senior Project Manager Craig Pool. "Our construction environment is constantly moving and changing. A person could be working in the same spot welding pipe for three days straight, but you could have an electrician working beside him one day, a dry-waller the next day, and a hole beside him another day."
With more than two dozen subcontractors on the project and an average of 120 workers onsite daily, Plano-Coudon also implemented an enhanced protocol of safety talks and inspections.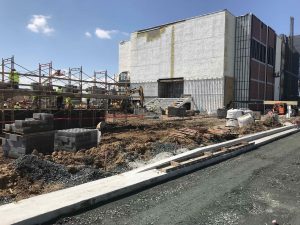 "We have a white board meeting daily that covers all the high-hazard activities for the day and diagrams where they are happening so all the trades are aware," said Tony Tur, a Safety Inspector for Diversified Safety Services.
Superintendents and safety personnel conduct a weekly walk of the entire construction site to identify or anticipate safety issues. Plano-Coudon and Diageo also employ full-time safety officers onsite to coordinate all safety activities and to provide quality assurance of the program.
"We are exceeding OSHA rules and regulations by leaps and bounds," Tur said.
"We are operating with a a level of detail that you would use if you were working in a power plant," Plano said. "It is a whole different level of safety and management."
Walkways and Ladders
The Guinness-site program also makes heightened efforts to reduce perennial job site hazards.
"Normally when you are walking through a job site, your head is on a swivel. You are constantly looking around so you don't get hit by equipment," Pool said. "That was a particular concern for this site because we would have 13-14 pieces of large, heavy equipment running around most of that time coupled with another two to three large forklifts."
To lower that hazard, the project team created job-site roadways and pedestrian pathways, which are covered in stone, lined with fencing, and identified with gantries and signs where they intersect roads.
Although the walkways need to be relocated regularly and "initially I thought they would be a pain," the pathways have greatly improved safety and the working environment, Pool said.
Safety policies on the Guinness site also address one of the largest safety hazards in construction – falls from ladders.
"If possible, work should be done from a lift or scaffold rather than a ladder," Pool said.
Subcontractors are urged to use platform ladders rather than A-frames, and require workers to limit their time on a ladder to periods of 15 minutes or less. When ladders are not in use, they are chained up to prevent any hazardous usage.
Incentivizing Safety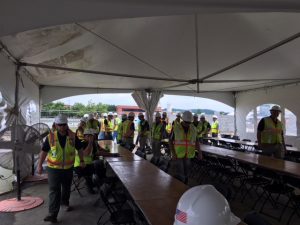 Amid the heightened safety requirements, Plano-Coudon initiated efforts to ensure that safety is a goal, not a burden.
"Safety guys can be seen as bad guys because they are always coming up and telling people what they are doing wrong," Pool said.
Consequently, Plano-Coudon set aside funds for safety incentives. Safety officers routinely point out examples of excellent safety practices onsite and hand out small gift cards to the workers involved. Each month, Plano-Coudon hosts an onsite safety luncheon for all project staff which includes a short talk about a safety topic, presentation of awards/prizes (such as large gift cards or Yeti coolers), and the announcement of the contractor-of-the-month safety award.
Overall, the program appears to be boosting safe work habits at the Guinness site.
"We're not having to correct as much little stuff," Pool said. "I don't think I've had to tell somebody to put on their hard hat or safety glasses in months."