Standing around the tee box, players at the 6th Annual Plano-Coudon Golf Classic found their conversations veering from handicaps and business deals to less-expected topics. Messages posted at each tee box provided insights into the situations faced and services provided by the beneficiaries of the fundraiser – Teach for America – Baltimore, Catholic Charities Baltimore and United Way of Central Maryland.
United Way, for example, has enabled more than 1,300 families to address financial crises and avoid evictions. Catholic Charities feeds more than 500,000 people each year and shelters several hundred every night. Teach for America's 1,200 core members and alumni in Greater Baltimore serve 30,000 students every day through public schools and educational organizations.
The Plano-Coudon Golf Classic, which was held at Hayfields Country Club this fall, raised over $60,000 for the three nonprofits, bringing the event's total fundraising over the years to more than $250,000.
"What is remarkable about the event is it brings together Plano-Coudon's colleagues and partners to support these philanthropic efforts and the people who attend are genuinely interested in what these organizations do," said Bill McCarthy, Executive Director of Catholic Charities. "For us, it's a wonderful opportunity to share our vision, mission and work."
Representatives of Catholic Charities were able to discuss how their services keep evol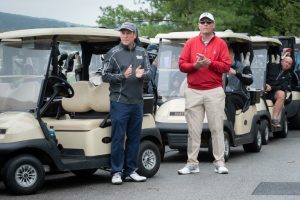 ving to meet community needs. In recent years, that evolution has included the establishment of gun violence interruption programs in multiple neighborhoods, reunification of children from Central America with family members, and the expansion of substance use disorder treatment services to address the opioid epidemic.
"It is inspiring to see how this event has grown over the years and it is very important to our work," said Courtney Cass, Executive Director of Teach for America – Baltimore. "We need to keep connecting with more people. We need our entire city and, frankly, country focused on the fact that education and inequity in education is the greatest civil rights issue of our generation."
Some golfers were surprised to learn that United Way operates a Family Stability Program within just a few miles of Hayfields, said Katie Downs, Director of Development for United Way of Central Maryland.
"This event puts us in front of new companies that may be connected to Plano-Coudon, but not yet connected to United Way, and it gives us an opportunity to explain how we fight for the education, financial stability and health of every person in Central Maryland," Downs said.
A committee of Plano-Coudon employees works for months to see to it that the Golf Classic is a top-quality event, said Justin Vega, the committee's co-chair. Employees also seek out ways to keep the event fresh and attractive to golfers and donors.
"This year we brought in a Hot Shot Golf Ball Cannon and put it on the seventh hole which is a Par 4," Vega said. "It could shoot a ball 300 feet, so it helped a lot of people's games."
That commitment to quality and philanthropy has consistently attracted a full field of golfers (even when this year's tournament was rained out and rescheduled) and a growing roster of generous corporate donors.
"People tell us it is one of their favorite outings of the year," Ryan Coudon said. "We are really pleased that it embodies Plano-Coudon's commitment to fun and camaraderie and supporting our community."