We are thrilled to an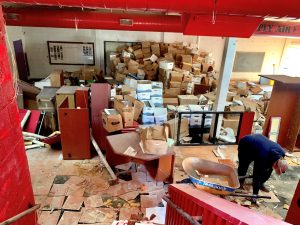 nounce Southwest Partnership is contracting Plano-Coudon to partner with TwoPoint Studio for the renovation of Southwest Baltimore's Poppleton Recreation Center.
The rec center, also known as Greater Model Community Center, includes an 8,000 SF recreation building situated in a park-like setting with baseball fields and an outdoor swimming pool. The building was originally constructed in 1975 and has been abandoned since 2003.
This past Saturday, P-C's Small Project Division teamed up with volunteers from the Southwest Baltimore Community, Church of the Nativity, SW Partnership and TwoPoint Studio and spent the day cleaning out the two-story building.
TwoPoint Studio kicked off the first design meeting yesterday, 2/27.
Make sure to stay tuned for updates regarding this exciting project!