August 2023 – Earlier this year, we shared our plan to honor our 25 years in business by engaging in a year of service to nonprofits in the communities where we build, work, and live. Our mission was clear: to stand beside organizations that tirelessly strive to make our communities better. Since our founding, we've been committed to being positive and fully engaged corporate citizens, so the choice to mark our 25th anniversary in this way felt right.  As we reach the midpoint of this transformative year, we are thrilled to provide you with an overview of our efforts so far: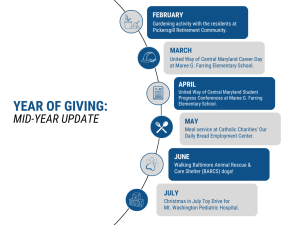 As we stand at the midpoint of this exciting year, we want to express our deepest gratitude to everyone who has supported and participated in our endeavors. Together, we are making a tangible impact, reinforcing the idea that even the smallest acts of kindness can have far-reaching effects.
The remainder of the year promises even more opportunities to engage, uplift, and inspire. We invite you to stay tuned and follow along as we continue to share our stories and hope you'll get inspired to join us in making a difference too!