After months of design debates, construction noise and muddy parking lots, Plano-Coudon employees are preparing to move into expanded and modernized offices.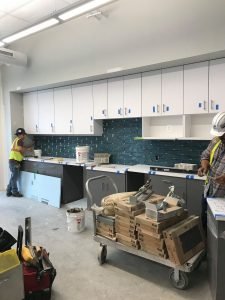 Assessing Plano-Coudon's sustained growth in both project and staffing levels, executives realized the company was poised to outgrow its existing building within one to two years. They developed a plan to completely renovate their 9,000-square-foot office on Washington Boulevard and add another 4,000 square feet to the building.
"We are a Baltimore City contractor. We put our stake in the ground in Baltimore City and we believe in supporting the community by keeping our office here," Brett Plano said.
Renovating the existing properly also enabled Plano-Coudon to move into desirable work space without incurred excessive cost.
"Our clients don't want to see us in a flashy, lawyer-style waterfront office because they know we would have passed that cost along to clients," Plano said. "By staying here, we are conscious of our community, we are conscious of our bottomline and that creates a value proposition for our clients."
The project may be frugal, but it will still produce impressive and modernized work space.
The 5,000-square-foot addition will include a larger, covered main entrance, new lobby, executive offices, conference area and the beginning of "Main Street" — a central corridor that will extend throughout the expanded, 13,000-square-foot building.
"Main Street is a signature element that organizes the entire space," said Charles Alexander, Principal at Alexander Design Studio. "It supports Plano-Coudon's teaming and corporate structure, so it will reinforce how the company operates."
Alongside that central corridor, each division will occupy a 'pod' – a cluster of cubicles, private rooms and open, collaborative spaces.
"There will be a lot more flexibility in how and where people work" said Ryan Coudon.
To support modern work patterns and heightened needs for collaboration, the new building's assortment of small and large conference rooms, lounge areas and common areas will be supported by technology that enables employees to take their laptops anywhere in the building and connect with adjacent monitors, including several 80-inch touch screens.
The office layout will also be more open (due to collaborative areas and lower cubicle walls) and illuminated by more natural light.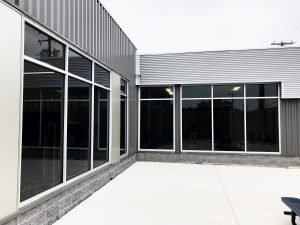 "We are adding skylights and cutting a lot of windows around the perimeter of the building so people can see outside and enjoy more daylight," Coudon said.
The interior design and finishes will showcase construction materials, including brick, tile, wood, concrete, exposed steel beams and ductwork.
"Along Main Street, there were be mixed media and some large graphics. In the new conference room, we will have the 'cloud' – a reclaimed wood feature that goes across the ceiling and down one of the walls. It's pretty dramatic," said CFO Janet Delaney.
Outfitted with two overhead, garage-style doors, the conference room will also open onto the employee lounge. Outfitted with multiple large screens, the space will be an excellent venue for all-hands meetings or large training sessions.
Progress on the expansion and renovation project has been admittedly slow "and there are only two people to blame for that and they are named Brett and Ryan," Coudon said.
Clients' projects kept taking precedence over work and decisions on the Plano-Coudon expansion, he said. "So we have had a really hard time keeping this project a priority and making the million decisions related to color and furniture and technology.
Construction of the expansion, however, is set to wrap up in November and phased renovation of the previous office space will be complete by spring.